Picture this scene: a wedding reception with dining tables and a dance floor, but it's neither time for eating or for dancing. What are your guests doing? In most cases guests are milling around, standing in small groups or pairs, waiting for the ceremony to commence.
What better way to allow your guests to mingle while creating a relaxing environment than with elegant lounge furniture rental. Lush couches and chaise lounges allow your guests to feel pampered and appreciated throughout the event.
Set the Stage With Lounge Furniture
It may not occur to you, when planning your event, what type of seating is best for your guests.  Whether you're planning a wedding reception or a cocktail party, it's important that every element of your decor, from Chiavari chairs to table linens, creates a mood. Set the stage and rouse a sense of awe the moment your guests walk into the reception hall. And speaking of setting the stage, lounge furniture rental offers a much more rich experience for Estate tables and Head tables than standard chairs. They can even be customized to match the surrounding decor.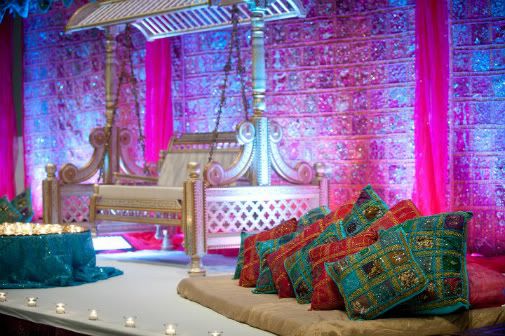 Lounge furniture rental also includes seating designed for the honorary members of the event. High quality Chiavari chairs are a popular choice among Indian weddings, but take it up a notch with luxurious wedding benches and royal chairs for family members. Or simply outfit trendy chiavari chairs with beautiful chair covers to add a flare of drama to your event.
Outdoor Lounge Furniture
Lounge furniture rental isn't only for indoors. Outdoor lounge furniture can be creative as well. Craft an unforgettable display of style, inside and out, with couches adorned with high quality throw pillows and bolsters. Choose from a wide array of bold colors and lavish sequined designs to add spark as well as comfort. How much more inviting can it be to see a semi-circle couch festooned with plush, decorative pillows just beckoning you to sit a spell? Your guests will certainly call your event lavish and extraordinary!