Sometimes it's better for us to stay quiet and let our clients speak for us…
Beautiful, gorgeous, stunning, amazing… I simply do not have enough adjectives to describe the decorations created by Utopian Events for our wedding! Utopian helped to design multiple events for our wedding and each time I walked into the room before the event, I was literally stunned by the beauty of the room. However, what is truly amazing is that each successive event was even better than the last. Our mehendi was whimsical, elegant, and colorful. The ceremony was cool, sleek, but at the same time so ornate. And finally, our reception literally left me speechless with as it struck the perfect balance between being sparkly, but also so incredibly sophisticated! I don't know how to even thank Shushil, Angelica, and the entire team at Utopian Events – they took my incredibly vague ideas and transformed them into something any bride would LOVE to have at her wedding!

If you are considering hiring Utopian Events for your wedding – here are a few details about my experience that may help you along your way. First off, I am a bride that lives in the North East, but decided to have the wedding in Atlanta. As a result, I had to meet with many of my vendors during my few and far between whirlwind weekend trips to Atlanta or work with my vendors remotely. During one of my trips to Atlanta before the wedding, we met with a number of different decorators and I have to say, there is absolutely no competition between what Shushil offers and other decorators in Atlanta (I know that sounds so mean to the other decorators, but I truly believe Shushil stands well above everyone else! :P).

Here is why I think UE was so amazing though: 1. The inventory available with UE was much more extensive than many others; 2. The creativity displayed by Shushil during our first meeting – I gave him some ideas as to what I wanted and he immediately began tossing out ideas and showing me a variety of pictures to hone in on my tastes.; 3. The high level of responsiveness – there was never a time when UE did not promptly respond to any request. As I noted, since I don't live in Atlanta and it was very hard for me to meet with the vendors repeatedly in person, but this did not pose any issue for UE. They sent pictures, called, and emailed in response to any questions that I had over the course of our planning!; 4. The level of detail – since I couldn't be there for every minute of the planning, I needed to rely heavily on Shushil et al. to ensure that everything would be ok for our wedding and they truly did not disappoint. Every little detail was perfection!! The attention to detail (especially when the bride is unavailable to oversee) is what is truly remarkable – it shows the level of commitment that Utopian Events invests in every single one of their clients.; And finally, 5. Service – I remember calling Shushil a few days before the wedding freaking out because we needed additional garlands for puja at home, but telling him I had no time to pick them up – no problem at all, Shushil ensured they were delivered to my house an hour before the puja. That is amazing! What busy professional in today's world provides this level of service to their customers?? I will tell you that level of service is very difficult to find and yet, it seems to be the motto for Utopian Events – high quality decoration with high quality service!

I would recommend Utopian to anyone and everyone – they are truly wonderful, responsive, the price is more than reasonable, and the quality of work outshines all competitors! Thank you thank you thank you Shushil, Angelica, and all of Utopian Events!!
Worth the price! My wedding was prefect because of Utopian Events
Working with Shushil and Utopian Events was amazing. We were so lucky to have someone who was so invested and passionate about design and unique decor. Shushil was able to meet with my family and I on 2 different occasions to discuss ideas, colors, and décor to match my Indian outfits. Shushil went above and beyond for my 3-day wedding. If I had an idea in mind he was very easy to and quick to respond via phone call, text message, and email. Utopian Events had created 4 different unique styles with very quick turn around times in the span of 3 days. We received wonderful feedback from family and friends on how lovely, professional, and creative the decorations were for all events.
We met Shushil thru mutual friends and attending several wedding events that Utopian had decorated. From the time we had our first meeting with Shushil to discuss my daughter's 3 day wedding event, it was hands down how professional and welcoming he treated us...and most importantly our daughter...which made us feel very comfortable. He was very compassionate and personal with the style we desired and showed unique ideas based on our interest, while leading us into the right direction. Within days he provided us a DETAILED OUTLINE of everything we had discussed. He was very punctual at our meetings and didn't hesitate to take calls anytime of the day or responding to text and emails. He and his team communicated and collaborated very well with other vendors throughout to make the planning process, including the event, easier. At the event, he transferred what started as a vision and turned it into a dream reality for our daughter!!
Utopian Events was at the top of my list when choosing a decorator for my wedding. After speaking with Kinjal Patel, Event and Sales Manager, for the first time I was committed to having Utopian bring my wedding to life.
Decor is such a crucial part of a wedding, the Utopian team truly knows how to bring a bride's vision to life. They also have so many wonderful recommendations to turn a simple idea into the highlight of your event. Kinjal was very generous, open-minded, and full of ideas she knew would make my wedding complete. She took the time to talk to me for about 30 minutes when we were first introduced just to get to know me so she could better understand my vision. I had never received such courtesy from a vendor before. We clicked right away and she began to show me photos of decor she thought would match my vision. We talked multiple times in person and over the phone to finalize every detail of the wedding events. Kinjal was so easy to talk, and so easy to get a hold of. Other vendors I would have to call over and over, but with Utopian, I never had that problem.
My major focus for decor was my Mandap. I wanted it to be something spectacular, like out of a movie. Florals, water features, greenery, candles, chandeliers, the works! Kinjal knew how much my mandap meant to me, so she presented me with multiple sketches and photos for inspiration (which she did for all my events). Finally, when the day came to see my mandap, I was blown away. I had to catch my breath before I could take in the glorious beauty of my dream mandap. It was just how I imagined it in my head, and it was brought to life by the Utopian Events team. I loved it so much, it became the major backdrop for my wedding photos. I wanted the beauty of that magnificent creation to shine in my photos.
Aside from creating my dream mandap, Kinjal and the Utopian Events team truly went above and beyond my expectations to create my dream wedding. All my pre-wedding events were decorated with such talent and cohesive presentation. I had discussed so many of the details with Kinjal, but when I saw them for the first time in person during the wedding week, I was beyond pleased with the outcome.
I would recommend this vendor to any bride seeking a great decoration team with fast and easy communication, fresh ideas, and desire to make a bride's dreams come true. They are truly the best, I am so thankful for Utopian!
Shushil and his entire team at Utopian Events went above and beyond to make our sangeet, wedding, and reception look exactly as I had envisioned! With 3 venues and 3 completely different looks, this was no easy feat, and I was floored every day when I arrived to see the rooms. Shushil listens to you and doesn't push other client looks or preferences on you - he really understood what we wanted and more importantly, what we didn't want, in each of our looks. He was timely, friendly, and an unbelievable pleasure to work with. We are really so thankful for him and his team, they made an epic 3 days all the more memorable for us!!!
WOW! A Dream wedding come True!
I had heard a lot about Utopian Events before I hired them and I had seen some pictures of their work online. But the end result for my wedding recently... completely exceeded my expectations.
I always had complete faith in Shushil and his team and I knew they were going to do an amazing job but when I walked into the Ballroom and saw my decor and flowers I was speechless.
Every bride has an idea in their head of what they want for their special day. And somehow the Utopian Events team was able to capture that and turn it into a reality. They listened when I told them my vision and made suggestions that helped me narrow down what I wanted. I was so happy when I walked down the aisle and saw my "better half" waiting for me surrounded by such a breath taking backdrop. I will treasure the memory of that moment for YEARS to come.
For those of you planning a wedding right now, I would check out Shushil, Angelica and the rest of his team. I feel like you can comfortably put all your decor needs in their hands and they will take GREAT care of you and give you your dream wedding day.
Spectacular! This word doesn't do justice for how amazing Utopian Events actually is. Utopian Events has become our favorite family decorators! We met with multiple designers years ago and Shushil from Utopian events understood our vision exactly as we described! From that point on we've trusted Utopian with all of our events. We also recently met Angelica for my wedding decor in 2018 and she is simply a breath of fresh air! Angelica and her team brought our vision to life during our wedding reception and we were at awe. Our guests couldn't help but take continuous pictures of the beautiful decor and shower us with compliments. Thank you, Shushil, Angelica and the entire Utopian Events team for making our events successful!
I first saw Utopian Events' work at my cousins wedding in 2013. I still remember when my mom and I walked into that reception we could not stop admiring the work. Fast forward to 2017, when I got engaged I knew UE was one of our first decorators to call! We had an amazing face to face meeting and from then on there was no question on the collaboration! Shushil is great at getting to know his clients and really understanding not only what they want but their personal flares. I can't count the number of my friends who came up to me and said "this decor FEELS like your wedding. It is so you!" Even though we new what the event was supposed to look like, my husband and I would still take a minute before our photo shoot to take in the amazing work the team had done. It exceeded our expectations! From Shushil to Angelica, the whole team really puts their heart and sole into your wedding. I felt more calm seeing them before each event and knowing that they would make sure everything was moving without a glitch. The personal touch that they bring is really above all and friendship and connection made that year will never be forgotten!
I'm not sure where to start with Shushil Patel and Utopian Events, they literally upgraded the entire look and overall tone of Thompson Winter Wonderland! I poured all of my ideas onto Shushil and his team and to say they delivered would be an understatement! They exceeded my every expectation. I will always turn to UE for any and all things exquisite. Thanks to Shushil, Becky, Tracy, Angelica and to each and every person who made this dream real. It was a winter wonderland! Love you all.
Where do we begin? From the very beginning of our wedding planning process, decor was the most important element of our big day. With that being said, we wanted to find a vendor that not only understood our vision, but could execute our vision. We found that and more with Utopian Events! From the florals, candles, linens and other unique elements we were able to personalize all of the details to transform our venue. Utopian Events also worked very well alongside our other vendors to make our dream day come true! Ms. Tracy was a joy to work with! She was very patient with our changes and provided examples and suggestions that not only fit our vision but our budget. She truly did go the extra mile to make our day even more special. She added special touches here and there that truly blew us away! The Chapel was simple, yet every so classic! And the reception venue was absolutely AMAZING! They were both truly more than we could have imagined. We couldn't have found a better person and company to work with! Thank you Ms. Tracy, Shushil, and the entire Utopian Events staff for being so great at what you do. Lots of Love, Mrs. & Mrs. Mason
Utopian Events created a most memorable event to celebrate our 50th wedding anniversary. We had selected Bollywood Theme for the evening. Shushil and his team transformed the venue to depict an Indian cinema theater, with decorations and movie posters from the sixties. Sushil took on the responsibility for getting all the back drops and posters and placed them throughout the hall. The huge back drop served as the photo booth for all the guests to have their portraits taken for keep sake. The Utopian Events team paid attention to every detail to make the event completely successful and memorable.
Chandra Patel, Hernando, Florida
Honestly I don't ever want to plan a wedding without Utopian Events! Omg!! I love Shushil with his awesome out of this WORLD Ideas, Becky with the Flourishing Florals, and Tracy to bring it all together!! They are an amazing team and if I have to call on any Design Team in Atlanta or World Wide it would be Utopian Events! Seriously no one does it better!
I wanted to send a very belated thank you for all the work you and your entire Utopian team did on our wedding day. It was flawless and all the guests were blown away with the wedding decor and flowers. I'm always looking back at the pictures to remember how gorgeous everything was. Everything looked so amazing and it really added something special to our day. To this day, people still tell me that the flowers and décor at my wedding were the most magnificent they'd ever seen. In addition to being an incredible designer, Sushil you are so friendly, easy-going, and helped us to make the entire experience fun.
You have been a pleasure to work with and we will definitely be passing along your information to all of my friends and families with upcoming weddings!! Our deepest gratitude to you for helping make our wedding day exactly how we envisioned it!
Shushil and his team at Utopian Events did an absolutely fantastic job for our wedding!
Shushil really took the time to listen to what we wanted and handled everything down to the smallest details – not only that but he and his team exceeded our expectations! We were amazed at how beautiful the decorations were for each event – the floral arrangements, centerpieces, and stage decorations were all stunning! Additionally, we were very delighted by the new shelf mandap for the wedding ceremony! It was so unique and gorgeous!
We would definitely recommend Utopian Events - Shushil and his team helped make our wedding a dream come true!
Shushil and his team at Utopian Events went above and beyond to make my wedding day dreams a reality. From our very first phone call, to the morning of the wedding Shushil was extremely communicative and supportive of everything. His ideas, rentals, floral arrangements are all brilliant. Being a fusion wedding, he was still able to make sure that all areas were set up to go straight from the ceremony to the reception seamlessly.
2 of my best friends have also used him and also had absolutely gorgeous weddings.
Highly recommended.
THANK YOU Shushil and Utopian Events for making my wedding day a dream!
As my one year wedding anniversary approaches, I'm looking back to what a wonderful weekend it was. When deciding on decor our first option was Utopian Events. Although we did look at other vendors, Utopian Events worked with our budget and knew exactly what we wanted. Angelica is absolutely amazing and worked with us from the beginning. My husband and I gave her our thoughts, and she and the team went above and beyond our expectations. Thank you so much for all you heard work.
Utopian Events delivered beyond our expectations for our wedding. From the first day we went to his office, Shushil was warm, welcoming, and always tried to understand exactly what we wanted. He happily accommodated to our changes in taste over the course of the planning process and offered suggestions for how we could incorporate unique ideas for our wedding while staying within our budget.
We contacted several other decor companies, but what stood out to us about Shushil was his willingness to work with us from the beginning. He sent us emails of photos, ideas, and inspiration. He wanted to see my Pinterest board to get to know me and my taste. He tries to cater to what you love and what he thinks you'll love based on your conversations with him.
Fast forward to the weekend of the wedding - I was BLOWN AWAY by my mandap. Words will never explain how I felt when I got a sneak peek of my mandap before the guests entered. It was glamorous, elegant, and dramatic at the same time and it was beyond anything I expected. What I noticed about Shushil is that he adds little things here and there to accentuate your events, whether they were in your contract or not. These gestures make a world of a difference when you see the final presentation come to life.
Thank you Shushil and the whole team at Utopian Events for delivering what was the most beautiful decor I could've imagined for our wedding!
Tracy and her team at Utopian Events did a wonderful job for my event! The decor was elegant, tasteful and absolutely gorgeous! Tracy is an absolute pleasure to work with and will definitely make sure you get all you desire and more!
Shushil and his team did an amazing job for our wedding! The decor was everything I wanted and more! I told him about my vision and he went above and beyond to make it a reality! Thank you soo much for making our day special!!
Thank you so much for making our big day so special. From our first phone call to our first consultation meeting, we knew that Shushil and his team were the ones we absolutely had to go wit. The décor was absolutely gorgeous and up to this day, people are still talking about it. We expressed our vision and budget for the entire wedding weekend, and the entire Utopian team worked exactly to our needs. Priya and I were extremely happy with the décor. Communication and teamwork is key when it comes to picking a wedding décor vendor. Shushil delivered both of those when he was open to discuss our thoughts and would help us make a decision while staying in our budget. We highly recommend Utopian Events to all of our friends and family. Shushil and the entire Utopian Events team are amazing and will make sure you get that perfect wedding you have always dreamed of.
Shushil was absolutely amazing with helping my wife and I decorate the venue for our wedding reception. We initially had scattered ideas of what we were looking for but did not have a complete picture in mind. Shushil immediately got to work and presented us a detailed and itemized list that allowed us to perfectly imagine our reception. Shushil was one of the best people to work with during the wedding planning process. He was welcome to any modifications to the decor to ensure that the decor perfectly matched our outfit and the overall venue looked beautiful. We are so happy we decided to work with Shushil and the Utopian Events staff for our wedding reception. I highly recommend Utopian Events to everyone who is looking for someone creative and responsible to make your dreams come to reality!
Utopian Events was exactly what my family and I were looking for when we started planning my wedding. I first met Shushil back in August, 2015 to see if Utopian Events could provide the type of service and décor I was looking for. Utopian Events had a range of options that perfectly suit not only simple, intimate weddings but also the more lavish kind. Along with the décor, the service provided by Shushil was nothing short of perfect. He was quick to respond to all communications, attentive to detail, provided competitive rates and made time to visit the site to ensure we were both on the same page for the four events: graha shanti pooja, sangeet, wedding ceremony and reception.
For the sangeet, we chose to go for fun and vibrant colored table covers, lanterns, cushions, and furniture that matched the street-food carts we had set up on the hotel lawn. The outdoor wedding and reception were both simple yet elegant. Shushil and his team set up a beautiful mandap in a garden that perfectly complimented the greenery of Atlanta. The reception on the other hand was stunning and sophisticated with blush pink linens, ivory colored flowers, a white sofa and beautiful draping. There isn't one thing that I would've changed! I'm very grateful to Utopian Events for turning my vision of my "big day" into a reality.
Even though our wedding was a few weeks ago, our guests are STILL talking about the amazing decor that we had throughout our wedding weekend. From the colorful mehndi tables and draperies, to the vibrant sangeet linens, to the BEAUTIFUL flowers at the ceremony and reception-- we cannot say thank you enough to Shushil for putting together our dream wedding. He worked with us every step of the way making sure that our vision for the wedding was kept in tact but within our pre-determined budget. He has wonderful ideas to share and is so passionate about his work that working with him is a breeze. He takes the time to visit the venue with you, walk through each event as well as the logistics and timings associated, and really cares about the final product. He does not shy away from a challenge and always has a back up plan (we had our ceremony outside but I never had to worry about what would happen if it moves indoors). He has great relationships with almost every hotel/venue in the Atlanta area (and beyond) and takes the time to cultivate the same relationship with you. I highly recommend Shushil and his amazing Utopian Events team!!
When choosing a design team for my wedding I didn't call anyone else but, Utopian Events!! I knew Shushil, Angelica and the team would do a fantastic job for my special day. I had been in the wedding industry for many years and this team always came through for my brides and did an excellent job so when it came my time I already had a lot of ideas for my wedding at the JW Marriott in Buckhead!
Utopian Events did a lot of prior research on the JW and knew what would work best with the space and my budget, which was really helpful. Jewish weddings have very specific traditions and the team was so accommodating on understanding the importance of different Jewish items and decor.
Utopian Events took the time to meet with me, come to my vendor walk through and help answer any questions I had throughout my 8 month engagement.
My wedding turned out to be absolutely beautiful and was even highlighted in a bridal magazine. The owner, Shushil Patel even took the time to come see me on my wedding day to make sure everything was to our liking which, meant the world to my husband and I!
I would highly recommend Utopian Events for weddings or any special events, you will have the most memorable, lasting experience! Thank you so much!
The entire Utopian Events family worked together over the last year to develop a wedding weekend better than we could have ever imagined! We were referred to UE by some friends that have previously used them. After meeting with several different decorators, we knew UE was for us!
Shushil spent the time to listen to exactly what my wife and I wanted and more importantly, didn't want. He would give us his opinions on what he thought would look good, but if we didn't like it or wanted to go a different direction, he would embrace it or let us know if it would look horrible! Shushil was patient with me as I constantly changed décor themes entirely on him when a new shipment of things came to his office that we would fall in love with. No task was too big or too small for the UE team to handle and the best part of it all is they did it with a smile on their faces until the very end.
UE is great for couples both in and out of town. Since we were based out of New York and doing the wedding in GA, he was very accommodating to our schedules and would stay later or work through breakfast and lunch if need be. He also helped keep peace between the families when we all wanted different things.
UE was great to work with and I would highly recommend them to anyone that has their entire wedding planned out in their head or no idea where to even start...UE will be there to help!
Wedding decor was one of the most important elements of planning our wedding! It can be difficult to find someone who can capture the vision that you have in your mind. But from the first consultation meeting, we knew that Shushil and the UE team were the right ones for us! Not only did they capture what we were looking for in terms of ambiance and class, but they completely surpassed it. The decor was absolutely amazing and left every single guest speechless.
Shushil and the UE team are the epitome of professionalism and grace. The lines of communication were always open and welcoming. Shushil made sure to listen to the ideas that we had and let us know what he could do to accommodate or better those ideas.
We would highly recommend Utopian Events to all of our friends and family! They are a great team who will make sure that your event is the one of your dreams!
I am incredibly thankful for Shushil Patel and his wonderful staff at Utopian Events. I went back and forth between many wedding decorators and in the end chose Utopian Events to help create the vision I had for my big day. From the very first phone call to the first meeting Shushil was very attentive and understanding to the details that I wanted. Our first meeting to discuss plans ended up being 3 hours when it was only supposed to be a sit down for an hour. Aside from doing his job he is a great conversationalist and very easy going!! There were many times where I changed my mind about details and he was very understanding rather than becoming frustrated which is definitely something every bride appreciates since planning a wedding can be extremely stressful. After all the planning and rehearsing details of all the decor/events the day finally came and his work was just breathtaking. From the Grah Shanti, to the Garba and then the Wedding and Reception, it was simply beautiful and I have the pictures to prove it! He was also quite timely in his job even at times when we would be running behind. I cannot say enough great things about him and his team except that I have the utmost gratitude for the beautiful wedding memories they provided my husband and I. Thank you Shushil and Utopian Events!!
My family and I had a wonderful experience working with Shushil and the UE team. Shushil is extremely responsive and dedicated to making your event look the way you want it to look. I admit I was quite picky about flower choice, table linens, the height of centerpieces/aisleway decor and Shushil made every effort to accommodate every single request. He is also extremely organized and professional, and even if our meetings went for hours, I never felt rushed by him. We received a ton of compliments on our wedding decor, and I would certainly recommend him to family and friends.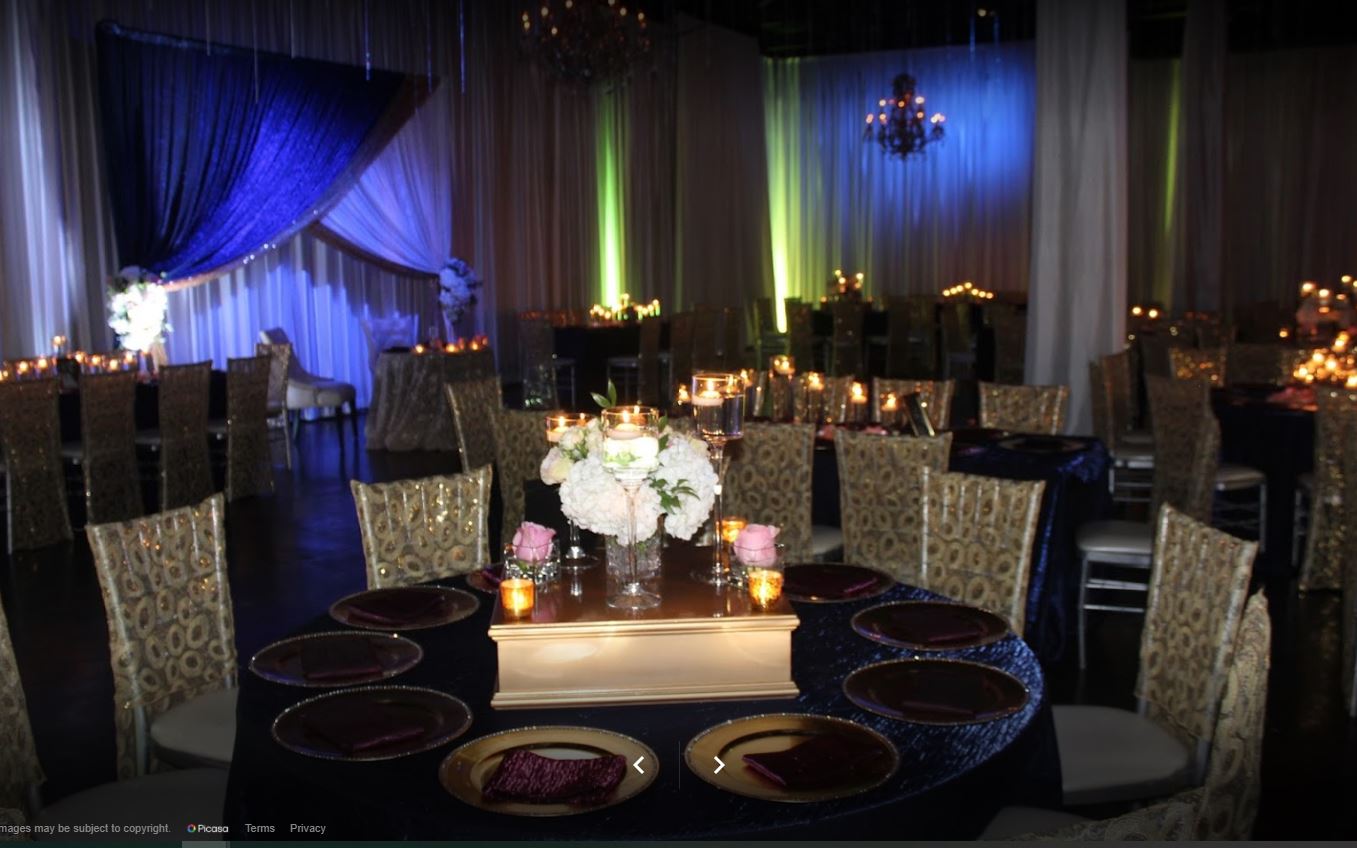 Words cannot express how amazing it was to work with Utopian Events. Shushil and his team are awesome! They created a magical experience that we will remember forever. Our family and friends are still talking about how beautiful the room looked a week later!!!

If your getting married, hosting a major event, etc and looking for a team that pays attention to detail and gets the job done...Utopian Events is definitely the way to go. We Love you guys and look forward to working with you on other events.